Hi, my name is Phil Taylor I am a man of many hats. I work with people in all aspects of life to help them achieve greater awareness, creativity, and success. I founded bodylanguagematters.com to practice what I preach to others. The best way to learn anything is by applying what you've learned in the real world as soon as possible.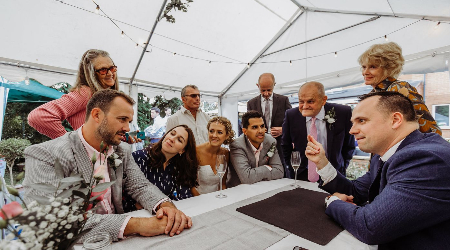 Why should you learn from me?
My life has had many twists and turns (mostly for the good). I'm a professional close-up magician by night and a data analyst by day. As a professional magician, I have learned to use body language to misdirect, convince, and deceive others when performing. More importantly, nonverbal communication has helped me build rapport and helped me speak with people from around the world to build trust rapidly.
I'm no FBI agent or army interrogator, and I'm betting you're not either. I wanted to learn real-world skills in real-time so I could become one of the best magicians in the world. Fortunately joining the magic circle at a high level enabled me to do that. I have learned many tips and tricks over the years that I will share with you here at bodylanguagematters.com
I'm also a hypnotist, husband, and father, I have plenty of experience in different types of human interactions. As an employee, I am well-versed in organizational dynamics and corporate politics.
You don't have to be Superman to learn body language, but it will give you superpowers – see what others can't, read the room, spot the nonverbals, and become a better communicator altogether.